Estimated Read Time: 1 minute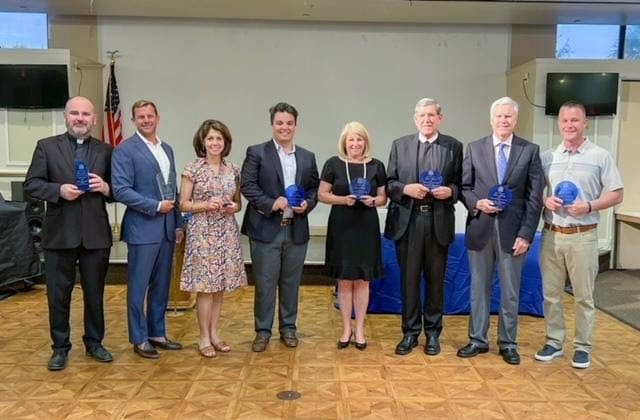 May 18th we celebrated our annual Legacy Awards at Mary Immaculate's Skaff Hall. This year's winners were from left to right, Star Award – Fr. Tomasz Makowski and Mary Immaculate Parish; Star Award – Fr. Glen Pothier, St. Edward Parish, and the Guild (not pictured); Legacy Businessman of the Year – Nicholas Coniglio '97; Business Woman of the Year – Dr. Ada Hanlon '84; Community Leadership Award – Gabriel Isasi V '11; Crusader Service Award – Eileen Lewis '82; Honorary Alumni – Brother Thomas Zoppo, FSC; Honorary Alumni – Mary Alice Fortin Foundation, accepted by board member Larry Alexander; and Alumni Recognition Award – Pat Dillion '91. Congratulations to our 2023 award winners!
Click here to view the news article in Florida Weekly.