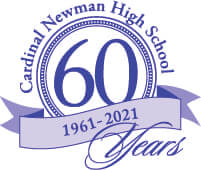 The 2020-2021 school year marks Cardinal Newman High School's sixtieth year providing a college preparatory, Catholic education in Palm Beach County. Founded in 1961, Cardinal Newman has a rich tradition of attracting gifted scholars, athletes, and artists who will become women and men of character, faith, and intellect. Among our 12,000 graduates have been war heroes, police chiefs, physicians, musicians, authors, researchers, politicians, lawyers, professional athletes, teachers, entrepreneurs, priests, and community leaders. Each Newman graduate is empowered with the ability to rise to every challenge and overcome every obstacle.
Stay Tuned for these 60th Anniversary celebrations:
Newman Night 2021 "A Night to Shine…. Celebrating 60 Years of Time" Auction and Gala – March 6, 2021
"Crusader Walk Through Time" Cocktail Reception
Crusader Golf Tournament – March 26, 2021
Alumni Christmas Reunion Cocktail Reception
As, together, we face these "uncharted waters" know that our prayers are with you and all your loved ones during these uncertain times and we hope to celebrate 60 years of Crusader excellence with you in the near future!